The US isn't the largest developing and consuming country when it comes to wireless technologies you would have said in the last few years compared to Europe or Asia, especially Japan or India. This has changed looking at the figures of 2011 (from mobilefuture.org): 8.8 trillion texts were sent which presents 15% more than the year before, the data traffic soar by 1800% in the past four years (!), 166% increase of Facebook Mobile users in the first half of 2011 only, 103m wireless tweets posted each day, more smartphones were bought than PC. Short video with more facts about the year: [youtube=http://www.youtube.com/watch?v=aKAIzU90zA8]
In fact, the market with its smartphones and user behavior is pretty hungry but the mobile network is currently running out of airwaves (know as spectrum crunch). On 14 February 2012 America's Federal Communications Commission (FCC) rejected the possibility to increase the capacity consistent of the proposal by LightSquared to use airwaves formerly used by satellite operators. The National Telecommunications and Information Administration (NTIA) stated that LightSquared technology would interfere with navigation equipement used by planes and operators (see recommendation).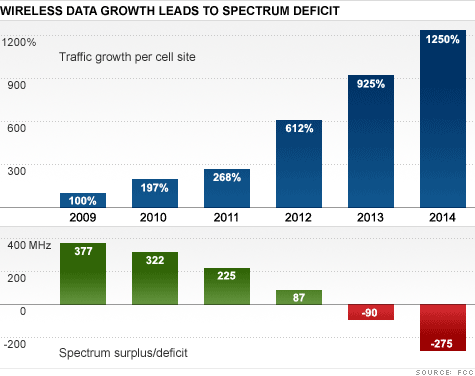 (via cnnmoney)
Heads of AT&T and the FCC are currently discussiung new and different approaches to the spectrum crunch at this years Mobile World Congress currently running in Barcelona, reports pcmag.com: 
Not surprisingly, Ralph de la Vega, president and CEO of AT&T Mobility, pushed for a more market-based approach to spectrum allocation here at Mobile World Congress, while FCC Chairman Julius Genachowski expressed concern that a recent spectrum auction deal in Congress might decrease the agency's power on the issue.

One spectrum crunch option that recently made its way through Congress is voluntary spectrum auctions, with broadcasters selling unused, excess spectrum to carriers. The FCC would oversee the auctions, providing some of the proceeds to the participating broadcasters and the rest to the U.S. Treasury.

Earlier this month, AT&T argued that the FCC should not be allowed to impose restrictions on the auctions - namely, the commission should not be able to limit how much spectrum the larger, more wealthier carriers could snap up.

One of the concerns about not having FCC oversight of auctions is that the biggest carriers like AT&T and Verizon will buy everything, leaving nothing for the smaller providers. To that end, T-Mobile and several consumer groups recently asked the FCC to stop Verizon from purchasing $3.6 billion worth of spectrum from the nation's top cable providers.

Verizon defended the purchase in a recent blog post.

"Rather than waste time arguing about spectrum efficiency, let's focus on the issue on which we all agree: America's wireless consumers face a spectrum crunch that won't be relieved by Verizon's spectrum purchase," wrote Charla Wrath, vice president of Verizon policy development. "It's up to the industry, as well as policymakers, to help ensure that more spectrum reaches the marketplace soon, so America's wireless industry remains the global leader in innovation that it is today. I'm sure T-Mobile would agree with that."